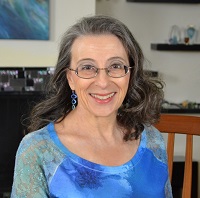 Joanne Fink loves to draw and letter to inspire herself and others. The tag line for her Zenspirations® brand is 'Live by inspiring others to fly'…and that's exactly what she does.
Inspiring words and positive thoughts are always present in Joanne's art. Her passion for drawing is evident in the huge archive of work – thousands of images – she has created over the years. No matter where Joanne goes, she always has pen and paper (or tablet) with her as her ideas seem to flow endlessly.
Joanne has spent most of her 30 year career developing products for the gift, stationery, craft and faith-based industries. A popular seminar presenter, she shares her product development, trend forecasting and art licensing expertise at numerous trade shows, and coaches other artists to help them license their work.
Joanne works out of her Orlando area Studio. When she is not drawing, Joanne enjoys spending time with her family and friends, reading, singing, walking ten thousand steps a day…and inspiring others to create beauty in the world.